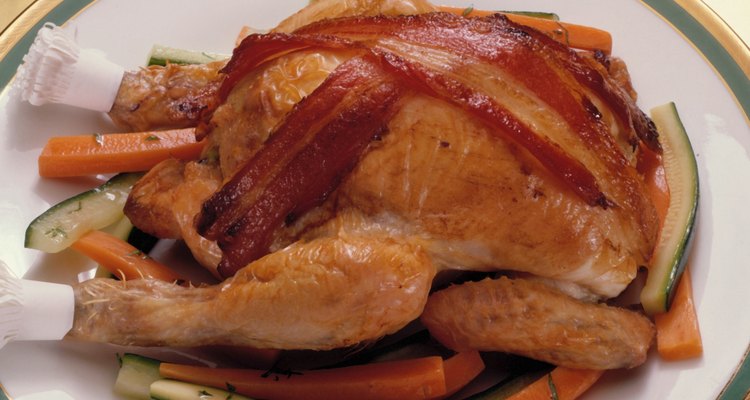 Jupiterimages/Photos.com/Getty Images
Cornish hens are a delightful dinner option. They're perfectly portioned for a meal for two, or you can prepare more than one for a larger crowd. Unlike whole chickens, cornish hens take less than an hour to cook, so you can even enjoy them when you're short on time. Roast the hens on a bed of carrots and potatoes, and you have a complete, satisfying meal. Roasted hens with vegetables is easily adaptable; simply switch up the seasonings to suit your tastes.
Step 1
Preheat your oven to 400 degrees Fahrenheit.
Step 2
Peel the carrots and potatoes and cut them into 1-inch pieces. Spread them into the bottom of a roasting pan or baking dish. If you wish, mix in flavorful aromatics like whole cloves of garlic, sliced onion and whole sprigs of herbs. Drizzle the vegetables with oil; then season with salt and pepper. Toss the vegetables to evenly coat them in the oil.
Step 3
Roast the vegetables for 15 minutes while you prepare the hen.
Step 4
Remove the giblets from the hen, then rinse and pat them dry. Season the cavity of the bird liberally with salt and pepper. Tie the drumsticks together, if you wish.
Step 5
Brush the hen with olive oil. Season the bird with salt and pepper, as well as any other dried herbs or spices you enjoy, such as paprika, cayenne, garlic powder and parsley.
Step 6
Remove the vegetables from the oven. Arrange the hen, breast-side up, on top of the vegetables. Roast it until the vegetables are tender and a thermometer inserted into the thigh reads 170 F, about 50 to 60 minutes. The juices from the hen will run clear when it is ready. Allow the hen to rest for a few minutes before slicing.
References
Warnings
Always cook poultry to a minimum of 165 F to ensure safe consumption.
Writer Bio
Irena Eaves began writing professionally in 2005. She has been published on several websites including RedPlum, CollegeDegreeReport.com and AutoInsuranceTips.com. Eaves holds a Bachelor of Science in journalism from Boston University.
Photo Credits
Jupiterimages/Photos.com/Getty Images