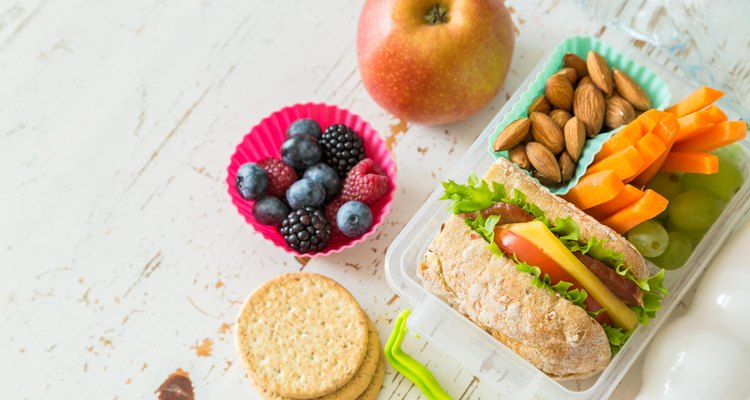 a_namenko/iStock/GettyImages
When the temperatures soar, there's nothing like hitting the lake or coastline for a fun, family-friendly boating excursion. For a full day on the water, bring snacks and foods to replenish your energy. Chips and cookies are tasty, but don't forget to pack healthy snacks that won't load up your kids with sugar and fat -- or hurt your swimsuit figure.
Fruits and Veggies
Fruits and vegetables are a natural source of energy, which you may need if you're swimming or water skiing off the boat. Pack easy-to-eat and serve fruits and veggies in an ice-filled cooler. Include carrots and pre-cut broccoli pieces. Cut yellow, green and red bell peppers into bite-sized slices. Bring fruits that are ready to eat, such as oranges or tangerines, apples, bananas, plums and grapes. Transfer creamy dressing or dips to serving sized containers and pack them in the cooler.
Healthy Carbs
Leave the greasy potato chips at home and bring healthier sources of carbohydrates to give you energy and protect your muscles. Bring veggie chips instead of tortilla versions. Pack whole-wheat crackers and low-sodium pretzels. Low-fat popcorn and granola bars are other healthy options during a day on the water.
Protein
Protein helps to prevent fatigue and build and repair muscle tissue. Boat-friendly snacks that feature protein include string cheese or mini cheeses; nuts, including peanuts, almonds, cashews and walnuts; and pumpkin and sunflower seeds. For meals, pre-make tuna or chicken salad sandwiches with flavorful dressing in place of mayo, or pack some turkey jerky. Make sure you have plenty of ice or ice packs to keep perishable foods from spoiling.
Sweets
Choose sweet snacks with with low sugar indexes, such as sugar-free gelatin or pudding snacks. Gingersnap cookies are low-fat and come in whole-grain varieties. Ginger is also a natural remedy for nausea, so the cookies may come in handy if any boaters start to feel seasick.
References
Writer Bio
Denise Brandenberg has more than 15 years professional experience as a marketing copywriter, with a focus in public relations. She also worked as a recruiter for many years and is a certified resume writer. She holds a Bachelor of Arts in English.