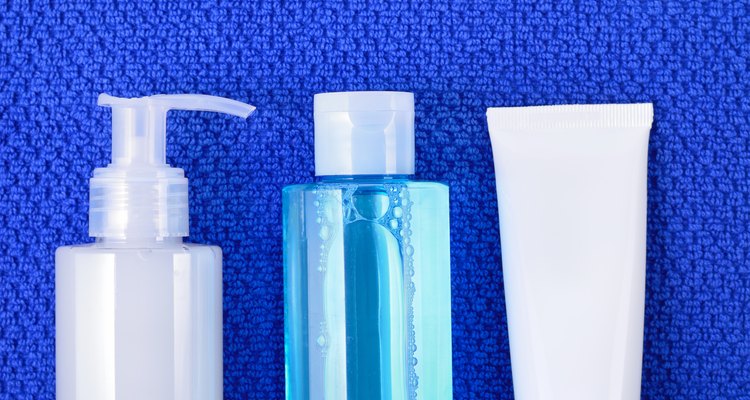 Geo-grafika/iStock/Getty Images
Proactiv offers a wide range of acne treatment products, from facial washes to treatment serums to basic skincare products designed for acne-prone skin. Proactiv's products aren't the only over-the-counter treatment options for those suffering from acne. Several companies offer alternative products that help banish breakouts, sometimes more effectively than Proactiv's products.
Murad Oil-Control Mattifier SPF 15
Absorbing excess oil on your skin's surface can help keep your pores clear and control shine. Proactiv's daily oil control treatment receives a negative rating from skincare expert Paula Begoun, who warns that it contains very irritating ingredients that can cause skin damage. Not so with Murad's treatment, which Begoun said is "very good" thanks to its use of antioxidants, moisturizers such as niacinamide, anti-irritants and built-in sunscreen.
Neutrogena Body Clear Body Wash
Pimples may appear elsewhere on your body besides on your face. ProActiv's body wash uses salicylic acid, and so does Neutrogena's skin-clearing body wash. The latter comes recommended by Esquire magazine and helps target blemishes on your legs, back and general body area. The body wash includes limited skin conditioners to help moisturize your skin and avoid excessive dryness.
L'Oréal Paris AcneResponse Intensive Adult Acne Peel Kit
L'Oreal's acne kit offers a three-step treatment that's similar to Proactiv's three-part acne kit. Just like Proactiv, L'Oreal uses salicylic acid to help exfoliate your skin surface and clear blemishes. Marie Claire magazine recommends it as a powerful way to enhance your complexion, saying it works as a gentle alternative to abrasive exfoliants.
Neutrogena Oil-Free Acne Stress Control 3-in-1 Hydrating Acne Treatment
Neutrogena's topical moisturizer can work as an alternative to Proactiv's similar topical acne moisturizer. Just like Proactiv's product, Neutrogena uses potent salicylic acid in a silicone base that helps get rid of pimples while simultaneously conditioning your skin. Begoun ranks Neutrogena's acne treatment as one of the best products from the company and one of the best treatments on the market.
References
"Don't Go to the Cosmetics Counter Without Me"; Paula Begoun; 2009
Writer Bio
Joshua Duvauchelle is a certified personal trainer and health journalist, relationships expert and gardening specialist. His articles and advice have appeared in dozens of magazines, including exercise workouts in Shape, relationship guides for Alive and lifestyle tips for Lifehacker. In his spare time, he enjoys yoga and urban patio gardening.
Photo Credits
Geo-grafika/iStock/Getty Images